Outdoor Worship FAQ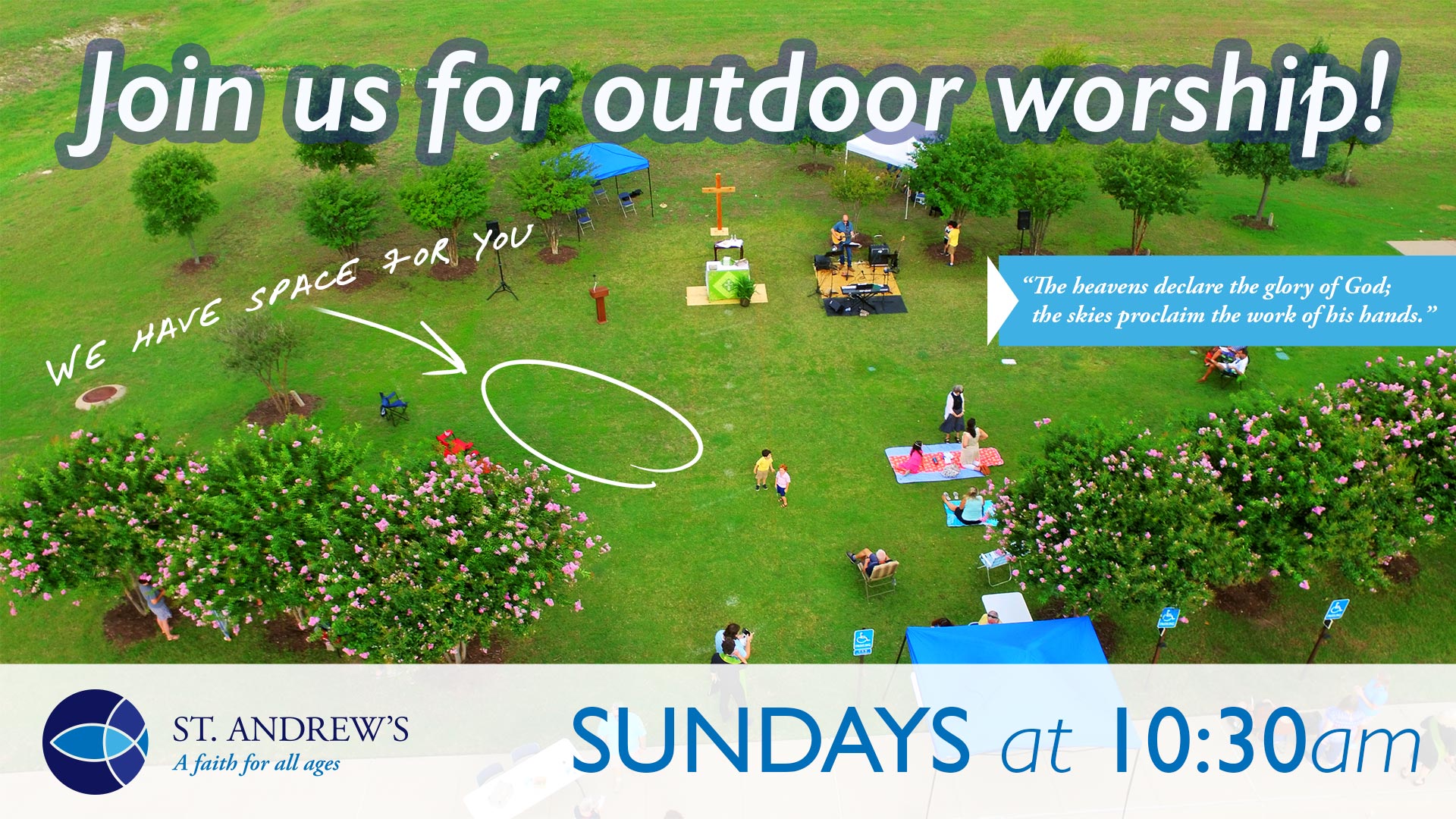 Where are we meeting for worship?
On the front lawn, with the altar between the crepe myrtle trees on the west side of the lawn. This means the orientation of the worship space is wide rather than narrow, which helps maximize unobstructed views for the congregation. This also allows for those who need the firmness of the concrete to participate in worship from the sidewalk and parking lot. If the weather so dictates (i.e. if the ground is very wet), we will move off the lawn and into the parking lot.
Is this the only way to worship at St. Andrew's?
Absolutely not. St. Andrew's online worship is at 9:00 am, on Facebook and YouTube, which is a streamed version of our indoor service, which is also at 9:00 am each week.
What do I need to bring?
You must bring your own lawn/camp chair or quilt to sit on (if you do not have a chair, please email us beforehand so we can make arrangements). You may also want to consider bringing a water bottle, hat, sunscreen, and other items to help make being outside more pleasant.
How will we space out to maintain our six-foot social distancing?
Family groups (those who live together) are exempt from the six-foot distance requirement, but everyone else must maintain social distance, even outside. As you arrive and set up your spot, please maintain appropriate distance from one another. There are center and front "aisles" marked out on the grass; please avoid those aisles.
Do I have to wear a mask?
Masks are required, even outside (this is a directive of the bishop). The clergy and music leaders will also be wearing masks when not leading worship or singing. Those who show up without masks will be offered a disposable mask by the ushers.
What else should I wear?
Whatever is comfortable. Casual clothes, sandals, etc. are most appropriate for outdoor worship.
What time should I arrive?
Worship starts at 10:30 am, and we highly recommend getting to St. Andrew's at least 10 minutes early so you can find a spot, get a bulletin, get Holy Communion (see below), and get settled.
Is the building open?
The hallway and bathrooms closest to the south doors will open for emergency needs only. The Great Hall, kitchen, classrooms, and office area will be closed, except for staff and set-up / clean-up volunteers.
Are we having communion? How?
Yes, we are celebrating Holy Communion at our outdoor worship services. However, as the distribution of Holy Communion remains subject to the diocesan protocols, there are some changes. The actual bread the congregation will consume each week will have been consecrated the week prior, and packaged by gloved and masked Eucharistic volunteers during the course of the week. When you arrive, find the u-shaped tables in the center of the lawn by the sidewalk. Send one member of your party up to the table and inform one of the lay communion ministers how many wafers you need. They will place a prepared envelope with the proper number of wafers on the table. After they step back, please come forward and take the envelope and return to your seat. During the service, after the Fraction (the breaking of the bread), the entire congregation will consume our bread together.
What else are we doing to be safe?
During the Peace, we will all stay put and greet one another from a distance. There will be no passing of the plate during the offertory. Two collection boxes will be available in the back where you can drop off your offering. Connection cards will be digital, rather than paper (you can fill them out on your mobile phone while you're there). The clergy will be very happy to greet you from an appropriate distance, but there will be no handshakes or hugs after the service.
What about children? Is there a children's sermon or children's church?
Children are welcome and encouraged to attend. We also have a socially distanced children's church for ages 3-5th grade. Parents, we know social distancing is difficult for children, and appreciate your help. Contact our children's minister, Stephanie Van Kirk for more details.
What about the weather? Is there a rain plan?
If the weather is bad, in-person outdoor worship will be canceled and we will worship indoor and online as we have been doing. If the weather is questionable, be sure to check our website or Facebook the morning of. Online and indoor worship is at 9:00 am, regardless of weather.
Are we having coffee hour, donuts, etc.?
No...but, since you're going to be sitting outside in your camp chair you can bring your coffee.
What if someone who attends the service later tests positive for COVID-19?
We ask that anyone who tests positive for COVID-19 in the week following their attending worship let Fr. Andrew know directly. We will make every effort to contact those who were present at that service (using the reservation and attendance data) to let them know of their potential exposure.
Should I come?
Only you can answer this question. However, we want to be clear that it's very possible, and in some cases nearly certain, that the answer is "no." Particularly those in high risk groups, whether because of age or other pre-existing conditions, should consider staying home and worshipping with us online. Taking care of yourself is always a good option!
Don't forget you can also join us for online worship – where you can worship from the comfort and safety of your own home.
If you or anyone with whom you've had exposure in the last 14 days has been diagnosed with COVID-19; or if you have a fever or other flu like symptoms, or have had a fever in the previous 24 hours, please stay home and worship with us online.