Grumpy Frumpy Visits The BlessMobile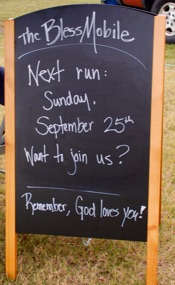 Grumpy Frumpy Visits The BlessMobile
Hey Frumpy, how come you're so…you know…grumpy??
One of the things I like most about The BlessMobile is that we offer options and we take into account people's preferences. We ask if they have special requests. We absolutely do not want to serve food that the community doesn't like. We want them to enjoy the food, to look forward to it. We really, really do.
Sometimes more than other times, we are given the opportunity to truly live into that approach. And it's not always easy.
---
Shortly after we started The BlessMobile, we made this friend. Let's just call him Mr. Frumpy. Mr. Frumpy has a reputation for being, well, you know… grumpy. He's a total "get-off-my-lawn" grouch. But he likes us. And he loves that we park The BlessMobile in front of his home. In fact, he looks forward to it every month, and after we pack up to leave, he asks us to lay hands on him and pray for healing. The poor guy's a mess. Diabetes, high blood pressure, seizures, migraines, a limp, hearing loss. You name it, he's got it. He's also got a speech impediment that makes him sound grumpier than he probably is (I like to tell myself that so please don't burst my bubble.). He really is just a complete mess.
So Mr. Frumpy came for dinner a couple weeks ago when we kicked off "Taco Tuesday." He's starting to get comfortable with us, apparently, because at one point, he said to Father Mike, "Hey, have you ever thought about bringing some peach cobbler? I love me some peach cobbler! You should bring some peach cobbler next time!" We all sort of chuckled, and I gave him a hard time because he had just told us he's diabetic. And the subject was closed.
But later, Father Mike, who I'm pretty sure has never himself made a peach cobbler, said to me, "We're gonna bring him some peach cobbler, right??"
Yup. With Splenda. (Diabetes, remember?)
So when I saw Mr. Frumpy the Friday before The BlessMobile's Sunday dinner this month, I gave him a flyer and reminded him we'd be bringing chili and cornbread. He was quick to tell me he can't have chili if it has salt or spices. I told him I would make sure there was a pot of chili with no salt or spices (but really, what the heck is chili without salt and spice?!), and because I didn't want him to be disappointed by a boring meal of ground meat, I surprised him, telling him we'd have peach cobbler for him. Grumpy Frumpy actually gave me a big hug, warned me he might be a little late, and told me he'd see me Sunday. He walked away with a smile.
The space between Friday and Sunday can be infinite, though.
My friend didn't show up till we were packing up to leave. The serving line knew to set aside a take-out container of salt-free, spice-free ground meat, I mean, chili, for Mr. Frumpy and I had a sugar-free small peach cobbler just for him. So when he walked up, I held out the foil covered pan of cobbler and offered it up. He took it quickly, and in hindsight, he might have been a little short with me, but I didn't notice anything until I tried to give him the chili and he demanded to know if it had beans in it.
Mr.Frumpy.doesn't.eat.beans.
Are you kidding me??
But I brushed it off, telling him there weren't many beans in it, that he should be able to pick them out. To which he responded with a deep grumble and a stern shake of his head.
Thinking I'd make it all better, I told him that the cobbler was sugar free so he could eat it without worrying too much.
*This is when, if I were telling you this story in person, you'd look pityingly at me and say, "Well, bless your heart!"
You'd think he'd like knowing it was sugar-free, right? Nope. Not so much. It kind of seemed to make him angry.
And then I heard a little whisper from Father Mike, sitting to one side of me, watching what was going on.
"Hey Frumpy! How come you're so… you know… grumpy?"
And all I could do is laugh. That, and walk Mr. Frumpy to his door, carrying the food he might not even eat.
---
Friends, we take this Jesus thing seriously. We seek him and we serve him. In all people.
Sit with that for a minute. We seek and serve Christ in all people.
Here's the sticking point: that means grumpy people too. People who act like big ol' jerks.
And I'm here to tell you: IT IS NOT EASY! But it is what we do. Because that, my friends, is what we are called to do.
What would be easy is to walk away from Mr. Frumpy and say, "To hell with him. No more peach cobbler or special meals for him." Indeed, that's probably how most people treat him.
I know, for example, that Mr. Frumpy had been volunteering at a local after school program until new management kicked him out for speaking too harshly to the kids. I'm told that when that happened, he became harder for the community to deal with, a bigger sourpuss than normal.
I know also that Mr. Frumpy had had a big morning before he arrived home to see us packing up The BlessMobile. He had gone to church (a 4-hour event at his church). He had gone to a small group lunch after church. And he had come home, limp more pronounced than usual, to see us with two giant bags of trash sitting on his lawn and a gaggle of local kids climbing the tree in front of his house.
None of which is an excuse for him to be rude and ungrateful.
But it is not his behavior that concerns me. It is our own behavior that concerns me. The behavior of our BlessMobile servant leaders, charged with ministering to the community in Christ's name.
And so I set down my frustration, my anger, my disappointment in Mr. Frumpy. I set it down at the foot of the cross and I love him in his grumpiness.
~dana