2017 Belize Mission Team Report
PROJECTS AT ST. JEROME'S
St. Jerome's Before: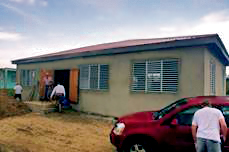 St. Jerome's after 2017 Trip:
In 2 days, we framed & poured cement steps at the back entrance; sanded, stained & varnished 12 pews and built a bookcase and a shelf at the community Library to accommodate over 500 lbs. of books that we have taken to Hopkins Village this year! We have provided the funding for the purchase and installation of floor tile and front awning by a local contractor.
PROJECTS AT CHRIST THE KING

Funds were sent to pay for 50% of the roof on the primary classroom building. The school then raised matching funds and completed the roof!


CHRISTIAN ED AT CHRIST THE KING
On two of the days, a Christian Ed Team will sing songs, teach a lesson, and provide a craft to each of the classes at the school. We always take school supplies for all 215 of the students. Each student received a pencil & box of 49 ct. Crayons along with scissors & glue sticks for each classroom and toner for the only printer at the school! We utilize these supplies in the crafts that we do as a part of the Christian Ed Program.
Thank-you for your support of our fundraisers. 100% of the monies raised is used for construction projects, Christian Ed, school supplies and teacher training programs. Please mark your calendars for:
Sunday, May 21, St. Andrew's Golf Event and Dinner
Friday, Aug. 25, Annual Spaghetti Dinner and Silent Auction
Our Next Mission Trip will be in November 2018!